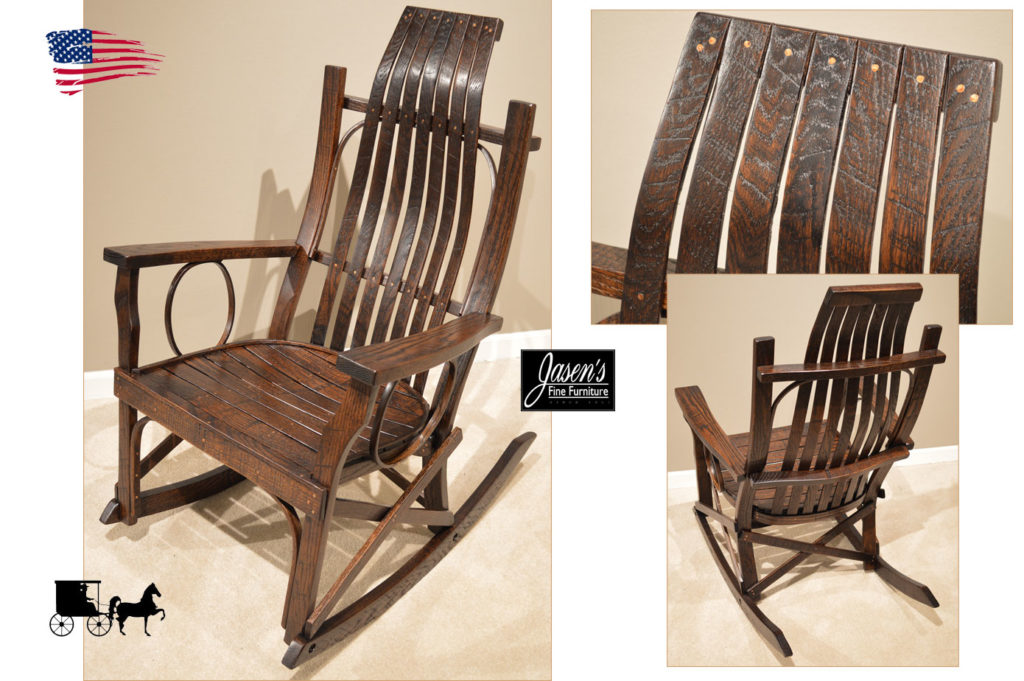 Amish Rough Sawn Rocker features Tobacco stain in addition to the heavy mill mark textures.
The curves while in contrast with the roughness, compliments the chair style.
The Tobacco stain is the perfect tone for the Oak wood specie.
The beauty of the wood is dramatically enhanced as a result of the Tobacco stain.
Furthermore, there are 100s of stains to choose from.
Most noteworthy is the chairs' available in custom finishing.
The chair is solid oak however many other wood species are available.
Rocker: H-41″ W-27″ D-34″
Options for Amish Rough Sawn Furniture.
Wood species that are available make for almost unlimited combos!
Species of wood available also include oak, maple, cherry, and quarter sawn oak.
Each specie of wood is unique, however, some stains look better than others on each one.
Stain combos with the many specie of woods are almost infinite.
The drawers use full extension glides and are almost unbreakable.
All drawers feature English dovetails.
In addition to the drawer's strength the finish is in and outside.
The tables are Amish, hence Made in the USA!
Quality of Amish Furniture
Amish Furniture is consequently a lifetime investment for the purchaser.
All varieties are made with solid wood regardless of the specie.
First of all the stain is applied before the final finish process.
Each piece has a finish that almost resists water entirely.
The finish is a several step process that is a result of a lot of hand sanding.
Furthermore, the finish is on the outside and inside of each piece!
In addition to being labor intensive, the finish is almost impossible to damage.
Each drawer is features English Dovetail joinery to ensure long lasting, durable quality!
Finally, each drawer features either full extension or soft close glides.
The drawer glides will also ensure that the motion is super smooth.
In addition to the smoothness, the glides enable the user to get to any part of the drawer.
Other types of Amish Furniture
Other types of Amish Furniture also include bedroom, dining, TV stands, and more!
We also carry unique Amish items such as bed steps, benches, and even chalk boards!