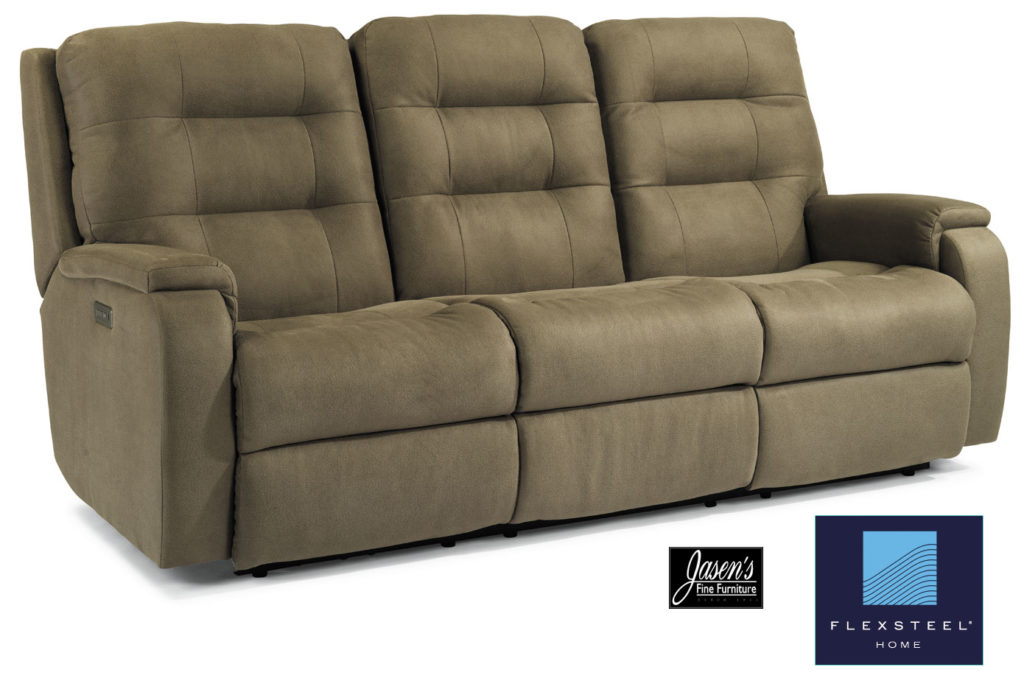 Flexsteel Arlo Sofa features clean lines yet trim profile while reclining with comfort.
The Flexsteel Arlo Sofa while in grey cloth, also comes in leather or 100's of other fabrics.
Sofa: 44″H 87″W 45″D

Love: 44″H 60″W 45″D

Chair: 41″H 37″W 45″D

The Flexsteel spring unit is most noteworthy for it's timeless durability.
Furthermore, Flexsteel has been making furniture longer than Ford has been making cars!
Consequently Flexsteel has been making high quality upholstery for over 100 years.
Flexsteel while very durable comes in 100's of fabrics.
In addition, almost every piece is available for special order.
Special ordering includes almost limitless options.
Options included for special ordering while many include fabric, leather, nail heads, and wood finishes.
As a result there are 100's of fabrics while dozens of leathers.
Furthermore, the selection of nail head colors includes eighteen options.
Finally, there are several colors of finishes for the legs.
Flexsteel while durable in nature also has one of the most robust warranties.
The most noteworthy warranties include limited lifetime on all frame, springs, seat foam and mechanisms!
The springs while almost indestructible consist of Flexsteel's unique, proprietary blue steel spring.
The blue steel spring while lifetime limited warranted, is continuous blue slat springs.
Flexsteel's springs are more reliable because of the unique nature of the build.
The frames on all Flexsteel models consequently are limit lifetime warranty.
Construction on frames consists of engineered plywood that is glue, screw, and corner block made for the ultimate strength.
Flexsteel Brands
Flexsteel consists of two brands in Jasen's Furniture.
The brands that are on our show floor consist of Flexsteel Home and Flexsteel Latitudes.
The Home brand consists of non-motion sofas in addition to other living room pieces.
Other living room pieces include either love seats, ottomans, and sectional series.
The Latitudes brand consists of mostly reclining furniture.
However, Latitudes does carry some non-motion pieces.
Both brands include the famous blue steel spring Flexsteel is especially relevant for.